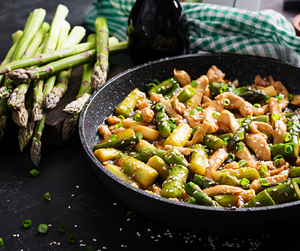 Fowl Play Miso Chicken Dinner
Fowl Play Miso Chicken Dinner
Fowl Play has a special place in my heart - it was one of the first seasoning blends I created at The Spice Age. I remember when I was making it I had about 50 tiny jars of spice around the kitchen and I kept asking my family, "you can't say they are all good, just tell me which one is the best!!" when in reality the difference between the blends in question was probably non-existent. So glad they put up with me! It probably helped that I was feeding them. 
Fowl Play in my opinion is the most versatile blend, I put it on everything, especially potatoes and vegetables. I have been thinking of rebranding the blend to be more of an All-Purpose seasoning,  but I have some die hard Fowl Play lovers who I know would not be impressed with me. You know who you are!!!
I am sharing one of my quick and easy weeknight dinner recipes with the one and only Fowl Play! To me, this is the definition of a cozy dinner. I hope you love it. 
Rebecca + The Spice Age
Miso Fowl Play. Winner Winner Chicken Dinner
Ingredients
______________________________________________________________
2 Garlic Cloves

1 Large Sweet Onion - diced

2 Pounds of Skinless Chicken Thighs

1 tbsp Tahini

¼ cup Miso Paste

1 can of Coconut Milk

1 tsp Fish Oil

3 tbsp Soy Sauce

¼ cup Flour

1 cup Frozen Shelled Edamame Beans

½ bunch of Asparagus, chopped into 2 inch pieces.
Directions
______________________________________________________________
Dice chicken into 2 inch pieces. Place in a clean resealable bag or container, season with salt and pepper and add flour. Shake to coat.

In a large pan, add 1 - 2 tbsp of olive oil and fry the diced onions and crushed garlic for about 5 - 6 mins until onions start to brown.

Add in chicken thighs, cook with onions for about 2-3 mins, browning the chicken.

Add in coconut milk, fish sauce, soy sauce, Fowl Play seasoning, miso paste + tahini. Stir thoroughly and bring to a boil. Then simmer for roughly 10 mins until the chicken is cooked thoroughly. Season with salt and pepper. If you want to thicken the sauce, you can add flour until you reach desired consistency. I prefer the dish less thick - I like to soak up the sauce with the rice!

While the chicken is simmering, in a separate pan on medium heat olive oil and when hot cook asparagus pieces for 3 - 4 mins, until bright green, shaking the pan frequently.

Top with edamame beans and cooked asparagus.

Serve over rice and enjoy!!
---
---
1 comment